September 9th, 2006
The Faculty of Architecture, University of Zagreb, Croatia, and the International summer school of Architecture Dubrovnik have organised Green Town Workshop 2006 an international workshop for architecture students. We publish here the final projects developed by 6 different international teams. This post will be updated as more material will be available.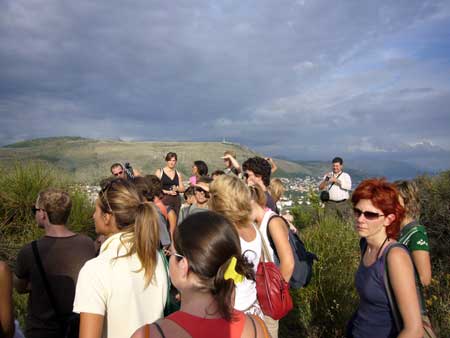 Group 3 | STRADUN BEACH
Tutor: Massimo Angrilli
Giovanna Di Virgilio, Andrea Jasci Cimini, Veljko Linta, Dasa Manojlovic, Gaia Zamburlini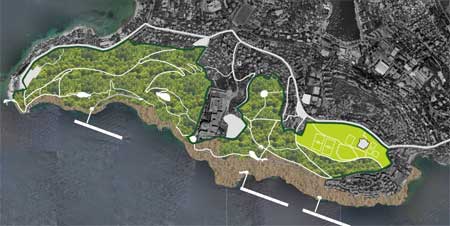 The history of Dubrovnik's development was the first step of the design process. The green Lapad area is of outstanding value because of its landscape and environmental qualities which have been the same during the centuries. So, the actual Lapad landscape is the ancient landscape that the ancient inhabitants of Dubrovnik visited for religious activities and for leisure time; in this sense, the Lapad area is complementary to the Old Town. All together, they are the witnesses of Dubrovnik's memory and identity. This is important not only for tourists visiting the cities, but also for Dubrovnik's citizens.
The whole town is universally recognized for its values, protected and constantly enhanced. We would suggest, in accordance with the historical importance of the Lapad area, to increase the active protection of this green area: this means developing a balanced policy which should combine the landscape conservation and upgrade. Conservation implies wood protection, fire protection, the renaturalization of damaged area, keeping the authentic vegetation…
In order to solve the increasing demand for beaches, the applied design approach is the opposite- it proposes floating and movable platforms designed by "cloninig" the Town's main street called Stradun. This abstract and metaphorical idea intends to deal with the needs for a new mental link between the Lapad area and the Old Town. This floating platforms are made of 6 replaceable and mobile barges, stored in the Bay of Gruz during the winter and pulled back by boat at the beggining of the summer. This platform is connected to the cliff by the catwalk which leads to the stairs carved in rocks or to the elevator going up to the top of the hill. In order to underline the link between the Old Town and the Lapad area, the platform is also connected by a shuttle boat system making the "Stradun beach" accessible to people from the Old Town, but also from the Bay of Gruz, including the other side of the promontory.
This whole programme is designed to answer both outsider and insider's demands and expectations, but the "Stradun beach" system also offers the answers to expected growth in demand for beaches in the future.
Download here pdf file [6.176 MB] with Group 3 final presentation: Stradun Beach
Tutor: Lorenzo Bini
Camilla Bevilacqua, Vittorio Fragasso, Marijana Plazibat, Paolo Silvestre, Ester Zazzero

'Lapad Woods are already completeley enclosed by Dubrovnik-City urban fabric…'
'The task we have been given is to give Lapad a new access to the sea through its steep and dangerous cliffs… '
'Our Promise is to embrace and protect the Woods of Lapad from histerical urban growth….'
'Our proposal has been conceived as an elastic ribbon around the Lapad Woods, a soft linear infrastructure toward the City and the Sea… '
'Our Ribbon Soft is a flipped metaphor of Dubrovnik Stari Grad: it protects wilderness from architecture… '
'Our Ribbon Soft is car-free: pedestrians and cyclists, tourists and dubrovcani (!) are enabled to circulate smoothly through three thin continuous lines… '
'Our Ribbon Soft is non-seasonal: it provides a kilometric street facade with intermixed and various-sized points for many different urban activities… '
Download here pdf file [4.970 MB] with Group 6 final presentation: Ribbon Soft