Tuesday, January 28th, 2020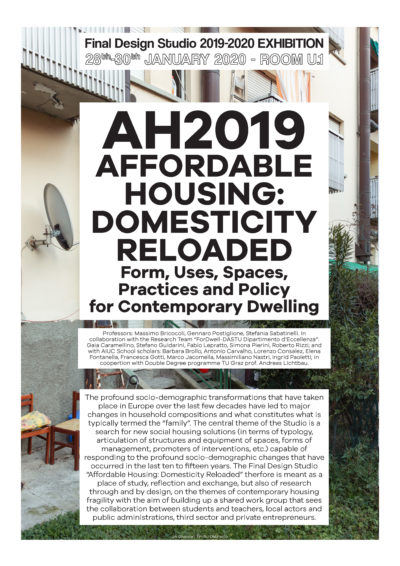 Professors
Massimo Bricocoli, Gennaro Postiglione, Stefania Sabatinelli. In collaboration with the Research Team "ForDwell-DASTU Dipartimento d'Eccellenza": Gaia Caramellino, Stefano Guidarini, Fabio Lepratto, Simona Pierini, Roberto Rizzi; and with AIUC School scholars: Barbara Brollo, Antonio Carvalho, Lorenzo Consalez, Elena Fontanella, Francesca Gotti, Marco Jacomella, Massimiliano Nastri, Ingrid Paoletti; in coopertion with Double Degree programme TU Graz prof. Andreas Lichtbau.
Guest Crits
Sonia Calzoni, Calzoni architetti
Giuliana Costa, DAStU, Polimi
Marianna Taborelli, DAR=Casa
Mikel van Gelederen, Zeinstra van Gelderen architects
Francesco Falzetta, Casa Jannacci
Sibil Sträuli, Pini&Sträuli
Presented works [by theme]
Housing Affordability: the framework
Age friendly housing
Housing and Commons
Productive Environments
Re-housing typology
No tags for this post.