September 23rd, 2014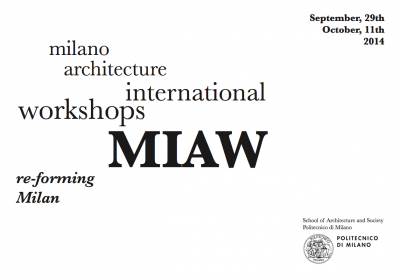 In less than a week by now, MIAW2014 will take off and almost 200 students will be engaged in a two weeks intensive programme tutored by a pull of international guests. During the workshops mentors will also present their own work and thoughts in a open lecture series taking place every day according the program and the scheduled agenda.
MIAW2014 LECTURES SERIES
Tuesday 30.09
Aula Rogers
18:30 – Jurjen Zeinstra and Héctor Fernández Elorza
Wednesday 1.10
18:30 -Aula Rogers
Helena Coch Roura and Renato d'Alençon Castrillón
Thursday 2.10
Aula Rogers
18:30 – Roelof Verhage and José Juan Barba
Friday 3.10
Aula Gamma
12:00 – Lecture by Nicolas Gilsoul
Saturday 4.10
Aula Rogers
9:30 – 13:00 – WS Mid-Term presentations
Monday 6.10
Aula Rogers
18:30 – Marco Verde and Nicola Braghieri
Tuesday 7.10
Aula Rogers
18:30 – Jon Michael Schwarting, Giovanni Santamaria
Wednesday 8.10
18:30 – T 1.3 classroom
Sebastiano Brandolini and Gunther Vogt
.
Instant exhibition
Saturday 04 OCT
h 10.00
Spazio Mostre
Final Exhibition
Saturday 11 OCT
h 10.00
Piano Terra edificio Trifoglio
WS TEAMS & ROOMS
SECTION A /ROOM J.1 
guest 
jurjen zeinstra 
host 
gennaro postiglione
enrico forestieri
SECTION B /ROOM J.2 
guest 
héctor fernández 
elorza 
host 
giancarlo floridi
matteo aimini
SECTION C /ROOM O.2 
guest 
helena coch roura 
host 
alessandro rogora
claudia poggi
SECTION D /ROOM O.2.1 
guest 
renato d'alençon 
castrillón 
host 
andrea gritti
marco bovati
franco tagliabue
SECTION E /ROOM U.2 
guest 
roelof verhage 
host 
corinna morandi
lina scavuzzo
SECTION F /ROOM Z.2 
guest 
josé juan barba 
host 
antonella contin
alessandro frigerio
SECTION W/ROOM III D 
guest 
sébastien marot 
host 
alessandro rocca
giovanni la varra