April 22nd, 2011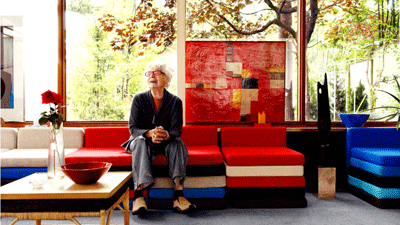 Grete Prytz in her house in Planetveien 12, Oslo (pic by Nina Ruud)
Here is a Planetveien 12 gallery even you miss here the presence of life, for a different sequence look here.
Grete died the 25th of September 2010 at the age of 93: always working with the same energy and lively creativity! I met her the first time in 1994 and I was shocked by her beauty and cleverness: I was with Christian Norberg-Schulz who introduced me to one of the most outstanding woman I have ever met. From that visit, I have always tried to pass by her in the house she was leaving since the 1955: Planetveien 12! The house was designed by her husband Arne Korsmo (a master of  Norwegian second generation of Modern architects) between 1952 and 1955, just before he left for Trondheim, for him and her wife Grete. She spent all her life there, respecting the initial utopia of the house programme: a place for life & work. This has been Planetveien 12 until she left for ever!
E questo è anche il motivo per il quale nonostante mezzo secolo sia passato, la casa è rimasta identica a se stessa senza per questo diventar vecchia, grazie al suo continuo modificarsi per far fronte alle esigenze e alle necessità dei tempi che cambiavano, senza però che se ne snaturasse il carattere.
In occasione delle mie visite, con fierezza mi raccontava, oltre ai nuovi progetti in cui era coinvolta, delle nuove trasformazioni operate alla casa: delle nuove poltrone che aveva introdotto nel soggiorno (opera di un famoso designer danese contemporaneo) così come di tutti gli altri oggetti che ne animavano la scena. Oppure amava ripetere che il garage, inutile a una anziana signora come lei, era diventato il luogo migliore per il suo laboratorio in cui smaltare argenti e metalli e in cui forgiare nuovi prototipi da proporre alla produzione o espressamente commissionatigli. Stoviglie per la casa (le prime pentole colorate in alluminio prodotte in Europa sono state le sue), ma anche complementi d'arredo in argento smaltato o vetro: Hadeland Glassverk e Cathrineholm tra le principali ditte per cui ha lavorato. Figlia di Jacob Tostrup Prytz, ultimo erede dell'omonima ultracentenaria industria norvegese di complementi e servizi per la tavola in argento, Grete diplomatasi all'Accademia di Arti Applicate di Oslo si era specializzata proprio nel trattamento dell'argento e, successivamente, del vetro. La casa era piena di suoi pezzi così come di straordinari oggetti di altri grandi designer di tutti i tempi, oltre che di quadri: a partire dalle opere a muro di Gunnar Gudersen concepite proprio per la casa, agli Chagalle, ai Mirò, ai Munch e così via. La casa come raccolta-in-uso, come museo vivo.
Diceva sempre che quando non ci sarebbe stata più, non voleva che la casa diventasse un museo (nonostante l'importanza e la bellezza della costruzione degli interni e delle collezioni in essa contenute). E il suo volere è stato rispettato. A pochi mesi dalla sua scomparsa, il 25 Ottobre 2010, un sito di annunci a base d'asta proponeva proprio la casa di Arne e Grete, come fosse una casa qualunque, tra le offerte del giorno. Chi se l'è aggiudicata dovrà rispettarne l'autorevolezza mostrando di esser capace di mantenere vivo un sogno nato 56 anni fa. Un sogno che Grete aveva saputo curare con garbo amore e intelligenza. Fino all'ultimo.
Una volta, al rientro da un viaggio ad Oslo le scrissi una lunga lettera d'amore, confessandole che se avessi avuto almeno trent'anni di più le avrei chiesto di sposarmi. Ne sorrise, e rimanemmo sempre con questo piccolo segreto in comune: per me era una persona molto speciale e un po' lo ero anch'io per lei.
No tags for this post.