Saturday, April 30th, 2011
Alianello (MT): Sabato 19 e domenica 20 marzo 2011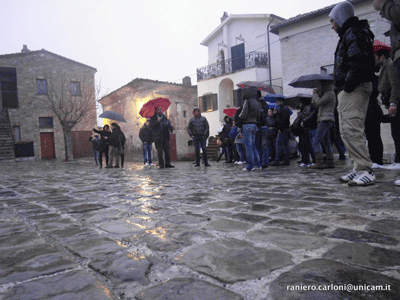 pic by Raniero Carloni album 2010 Aliano su Picasaweb
L'azione di allestimento-istantaneo del workshop si propone di realizzare un'esperienza di ri\conoscimento da parte degli studenti del corso del valore di alcune semplici unità di case contadine del borgo abbandonato di Alianello (MT) , stimolando gli stessi studenti ad immaginarne usi e sensi da mettere in scena partendo dai resti, dagli scarti che il caso ed il tempo hanno determinato: entrare in un luogo che, dopo tanta vita (storie di quotidiana fatica e banalità, sentimenti e violenze, nascite e morti, riso e pianti), ha conosciuto l'abbandono in un istante, senza che nessuno sia passato a mettere ordine.
Un luogo vero in quanto non musealizzato, dunque pieno di tracce.
Read the rest of this entry »
No tags for this post.