November 14th, 2010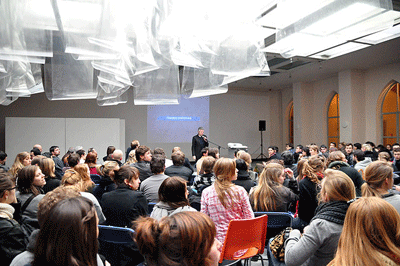 [Copyright-flickr-by Tupid: ADSL2010 final presentation]
As every year, the School of Architecture and Design of Antwerp (B) arranges an International Workshop Week in its premisis.
The ADSL2011 theme is CONGRUENCE
The workshop period is 07-11FEB2011: registration fee 200,00 euros (including food & accomodation) while transportation to/from Antwerp is on partecipants own expences.
More details on the ADSL2011 edition:
Day by day programme
List of invited Tutors & Speakers
As Partner of the organization, we have two 'wild cards' for free registration: students from all POLIMI are welcome to deliver their application by sending – via email – a request of partecipation to:
Remember to attach a PDF file [max 4MB] with samples of you design skills: we are interetsed to check what you are able to do both by hand (maquettes, collages, etc.) or with the computer (ability in editing representations by any sofware).
Deadline: by the end of November.
Previouse editions
ADSL2009_BROCHURE
ADSL2010_BROCHURE
Previouse results
ADSL2009_results
ADSL2010_results