Thursday, March 27th, 2014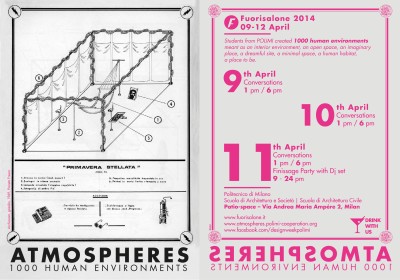 Application closed!
.
For the first time, in conjunction with the Design Week, 8-13 April 2014, Politecnico di Milano will perform an environmental installation that will take place at Campus Leonardo. All the students of Architecture (both in Leonardo and Bovisa and of all Study courses) will be the authors. The theme of the choral exhibition is "Atmospheres – 1000 Human Environments": the students have to answer for the recreation and suggestion of a "environmental atmosphere" that could be a minimal space, an internal environment, an open space, an imaginary place, a place to be…
The unique element of the whole installation will be a plexiglass box (25x25x25 cm) in which, or on its surfaces, each student will create its personal striking atmosphere.