March 27th, 2014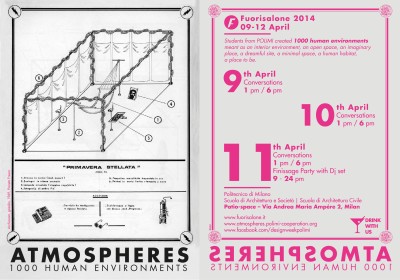 Application closed!
.
For the first time, in conjunction with the Design Week, 8-13 April 2014, Politecnico di Milano will perform an environmental installation that will take place at Campus Leonardo. All the students of Architecture (both in Leonardo and Bovisa and of all Study courses) will be the authors. The theme of the choral exhibition is "Atmospheres – 1000 Human Environments": the students have to answer for the recreation and suggestion of a "environmental atmosphere" that could be a minimal space, an internal environment, an open space, an imaginary place, a place to be…
The unique element of the whole installation will be a plexiglass box (25x25x25 cm) in which, or on its surfaces, each student will create its personal striking atmosphere.
The achievement of the maquette is possible managed independently by each student or with the support of the professors who are promoting the initiative during the two days devoted to the workshops (March 22nd, 29th and 31st, and April 5th).
All the boxes will be exhibited in internal spaces of Politecnico di Milano, Campus Leonardo, starting from the central area of the Patio (main Architectural building) in Via Ampere, fulcrum also of other collateral events. A widespread display is the purpose of our work that could cover several spaces of the Campus. So the hope for the participation of a large group of students and the production of remarkable number of maquette, is necessary in order to have a noteworthy impression from the exhibition.
During the Design Week, a series of theme meetings will be organized: dj set party, a traditional Sunday brunch.