October 21st, 2013
Giovedì 24 Ottobre Maarten Gielen di ROTOR presenterà al Politecnico di Milano  ON PRE-EXISTING CONDITIONS.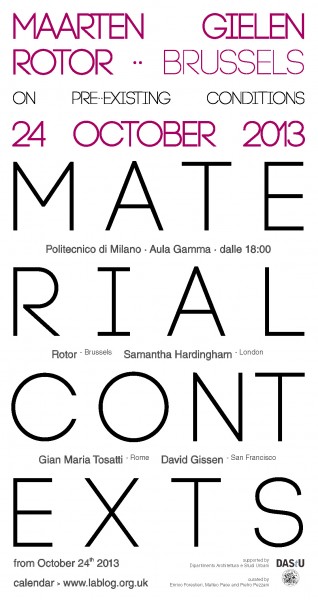 Fondato nel 2005, Rotor è un collettivo formato da persone con un comune interesse nei cicli materiali dell'industria e della costruzione.
A livello pratico, Rotor si confronta con l'ideazione e realizzazione di progetti architettonici e di design. Sul piano teorico, Rotor sviluppa un pensiero critico su design, risorse materiali e scarti attraverso ricerca, mostre, scritti e conferenze.
Se avete perso la conferenza di Maarten Gielen -Rotor- potete riascoltarla e vedere una selezione delle sue diapositive qui.
Politecnico di Milano
Facoltà di Architettura e Società (via Ampère, 2)
Aula Gamma, ore 18:00
Download the poster of Material Contexts
more info about MATERIAL CONTEXTS conferences and updates: bipolarch and lablog
Thursday 24th of October Maarten Gielen from ROTOR will present at the Politecnico di Milano ON PRE-EXISTING CONDITIONS.
Founded in 2005, Rotor is a collective of people with a common interest in the material flows in industry and construction.
On a practical level, Rotor handles the conception and realization of design and architectural projects. On a theoretical level, Rotor develops critical positions on design, material resources, and waste through research, exhibitions, writings and conferences.
If you missed Maarten Gielen's conference you can listen to it and look at a selection of its slides here