March 6th, 2012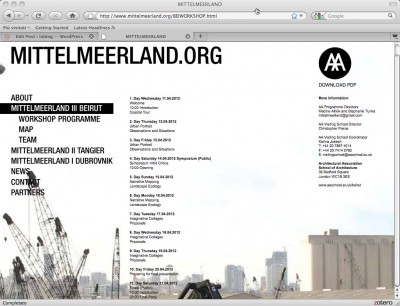 Dear lablog,
Please see the announcement of our next International AA Visiting School in Beirut (11-21 April 2012). Would you be so kind to post it to your network and to your students, graduates and young professionals?
We still have places available – there are also two partial scholarships left by 12 March.
Anyone interested can contact me directly.
Many thanks and kind regards,
Medine
The deadline for application is March 28th 2012 (for scholarships March 12th).
More information contact Medine Altiok and Stephanie Tunka:
mittelmeerland@gmail.com
.

AA VISITING SCHOOL MITTELMEERLAND in BEIRUT, LEBANON
11-21 APRIL 2012
The Visiting school Mittelmeerland, a program of AA's School of Architecture London, is seeking architecture students and young professionals to participate in the 10-day architectural research workshop in Beirut, Lebanon. Mittelmeerland will investigate the future of the Mediterranean and research six different cities over three years. In this workshop we will question, how Beirut's coastline is going to change in relation to the Mediterranean? What are the driving forces behind its reconstruction? What is the vision for a city of many cultures in need of modernization?
The deadline for application is March 28th 2012 ( for scholarships March 12th).
More information contact Medine Altiok and Stephanie Tunka:
mittelmeerland@gmail.com
www.mittelmeerland.org
www.aaschool.ac.uk/beirut
www.facebook.com/mittelmeerland