September 30th, 2011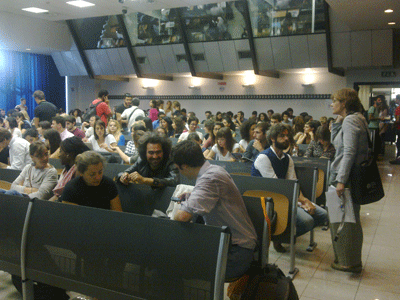 Milano Architectural International Workshop (MIAW) is an annual initiative promoted by a multidisciplinary group of colleagues working in the Master of Science programs at the School of Architettura e Società of Politecnico di Milano that involves its students and a number of international guest tutors.
The focus of MIAW is the city of Milano and the concept is that each annual edition developes designs and/or built explorations along the definition of a keyword.
For MIAW2010 the keyword was 're-appropriation' and now the 2010 WS report [download excerpt 500KB] is aviable the bookshops [retail price is 15,00 euros: the money will go to finance the 2011 report]. For MIAW2011 has been 'forests': soon also this report will be available.
MIAW.2 is now over: 10 teams of 20 students have been guided by 10 guest tutors through a racing working week. For a week the school looked like a working place for sharing collaboration: different nationalities, different genders, different education lines, different age & level, different projects, but all involved as a whole team. Productions out of the workshops can be seen walking in the Campus: from heavy wooden tower to delicate mint garden almost invisible in the labyrinth of POLIMI.
Thanks to students' enthusiasm and a special thanks to the generosity of the invited guests.