May 10th, 2011
UPDATED 110515 > changed location for the Friday meeting
Madrid, 19-22 May: flight&accomodation on students' individual responsability.
Here is the map of Lablog-2011 Madrì Tour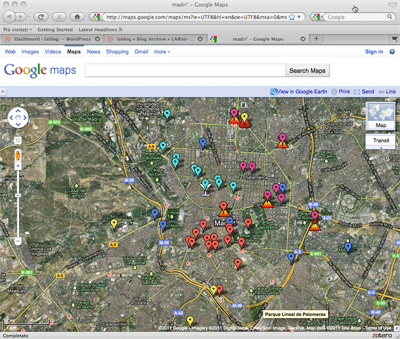 Link to the google-map page (by Enrico Forestieri)
Details for the three-days programme
Red-drops: Friday
Green & Pink-drops: Saturday and Sunday (to be agreed)
Yellow-drops: for highlights (individual tours)
Standar Blue-drops: extra items (for individual tours)
Key-logo
Vulcan = Masterpiece
First Meeting
Friday 20 MAY h. 9:00
MATADERO
Paseo de la chopera, 14
metro stop: yellow-line/Legazpi
+
Alquimia
The Hub Madrid Studio Banana
calle Gobernador 26 c/ Plátano 14
Viernes 20 Mayo 2011 @ 19:00
Studio Banana está situado en el barrio de Tetuán, a 5 minutos a pie de las estaciones de metro Ventilla (L9) y Valdeacederas (L1) y a 10 minutos de la de Plaza de Castilla (L1, L9, L10)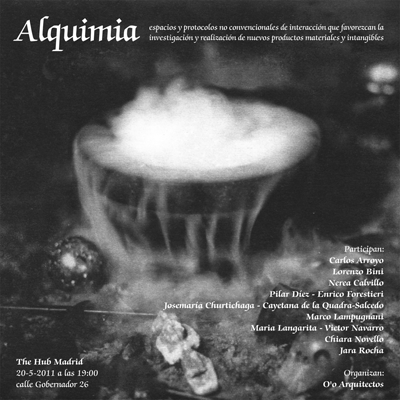 Format & guests
formato: 10-15 minuti ogni gruppo con dibattito acceso  (tipo cineforum morettiano). abbiamo proyettore, se qualcuno ha bisogno di equipaggiamento tennico non standard vediamo se riusciamo ad accontentare.
equipos y posibles temas que habia imaginado, pero sentiros totalmente libres de cambiar.
espana:
Carlos Arroyo
Nerea Calvillo
Churtichaga + Quadra Salcedo
Maria Langarita+Victor Navarro: Concurso y obra Intermediae y/o Medialab Prado y/o LED facade
Jara Rocha
italia:
Lorenzo Bini
Marco Lampugnani
Chiara Novello: proyecto de reconversion de un ex lanificio en Biella y/o proyecto de reconversion de la ex fabrica faema
hibridos y moderador:
Pilar Diez + Enrico Forestieri : My publicagenda, una herramienta de sincronizacion del espacio fisico y virtual pensada para fomentar colaboraciones de trabajo e interaccion transdisciplinar