July 22nd, 2010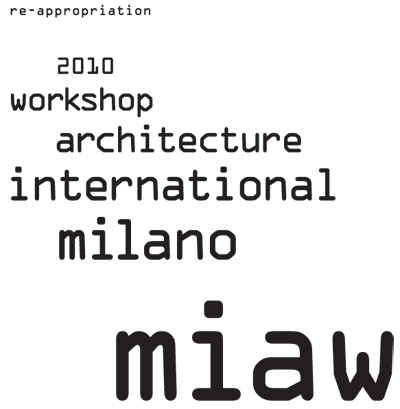 MIAW (Milano International Architecture Workshop) è una settimana di Workshop di progettazione promosso dalla Facoltà di Architettura e Società del Politecnico di Milano la cui prima edizione si svolge dal 27 settembre al 2 ottobre 2010 (vale 4 CfU).
Le iscrizioni sono aperte a tutti gli studenti delle Lauree Magistrali e del Terzo anno della Triennale (nuovo!) della Facoltà di Architettura e Società (di tutti corsi di studio) e vanno redatte compilando l'apposito modulo (miaw2010_modulo-iscrizione) da inviare a efisia.cipolloni@polimi.it
la nuova scadenza è fissata per il 12 settembre




entro il 9 luglio 2010/ore 24:00
La selezione dei partecipanti ammessi al workshop avverrà sorteggiando 120 nominativi tra quanti si saranno registrati.
Il tema dell'edizione MIAW2010 è 'RE-APPROPRIATION': sono stati invitati 8 docenti stranieri a interpretare il tema elaborando un proprio programma per guidare altrettanti gruppi di lavoro composti da 15 studenti ciascuno.
I Guest di MIAW2010 sono:
ws01 sami rintala
ws02 john nastasi
ws03 alexander roemer
ws04 silja tillner
ws05 enric massip-bosch
ws06 izaskun chinchilla moreno
ws07 anouk vogel
ws08 adam kurdhal
The 'Milano international architecture workshop' 2010 is the first edition of a teaching programme that will take place every year at the school of architecture and society, politecnico di milano. Miaw aims are to stimulate cross-over thinking and researches in the design field and to stimulate studente to achieve an interdisciplinare approach towards design problems. Miaw provides an international forum for schools, teachers and students exchange, but is also an informal platform to discuss the issues and share the ambitions that education implies.
The overall theme of MIAW2010 is 're-appropriation'.