Tuesday, November 1st, 2005
Main editors of lablog are Gennaro Postiglione (Associate Professor of Interior Architecture at Politecnico di Milano) and Lorenzo Bini (Architect and Visiting Professor at Facoltà  di Architettura e Società -Politecnico di Milano).
Lorenzo Bini and Gennaro Postiglione run together "BeeP agency for architecture research teaching and practice" (based in Milan) where they convey their competences and skills for a cross-disciplinary approach to architecture and built environment challenges.
To collect information about Lorenzo Bini: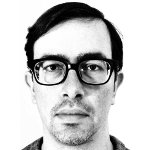 Lorenzo Bini è nato a Milano nel 1971, ha studiato al Politecnico di Milano ed alla SHKS di Oslo, Norvegia. Dopo essersi laureato in architettura nel 1998 ed aver lavorato per diversi studi milanesi, nel 2000 si è trasferito in Olanda dove ha lavorato come architetto per West 8 Urban Design & Landscape Architecture. Di ritorno a Milano, nel 2003 ha co-fondato studiometrico, uno studio di architettura che ha diretto fino al 2011, quando lo studio si è sciolto per fondare Binocle. Oltre all'attività professionale, Lorenzo ha tenuto conferenze in diverse scuole Europee e da alcuni anni insegna architettura al Politecnico di Milano. Dal 2010
Read about him and download his Curriculum Vitae HERE
Gennaro Postiglione is Associate Professor in Architecture of Interiors and member of the PhD Board in Interiors at The Politecnico di Milano. His research activity focuses mainly on re-use and re-cover of marginalized and abandoned heritage (tangible and intangible), and on museography as active-action strategy for preserving and diffusing collective memory and cultural identity.  Directing the resources of Architecture in the service of the Public Interest. His design activity, seen as a critical thinking, interprets every project as a transformation of existing environments through Adaptive Reuse interventions where Architecture of Interiors plays the role of a practice led by a strong attachment to the existent realm, able to connect people objects and environment in a sustainable way.
Profilo 'metaforico' /'Metaphoric' profile (through food)
http://polimi.academia.edu/GennaroPostiglione
Postiglione Research & Teaching profile

Bini-Postiglione RESEARCH ACTIVITY
Research Unit 'New Museography' (result: Excellent)
Granted by EU/Culture 2007 programme (2012-2014)
Granted by EU/FP7 2010 (2011-2015)
Granted by The Italian Ministery of University (2009-2011)
Granted by EC/Culture 2000  (2004-2006)
Granted by EU/Culture 2000  (2000-2002)